An unimaginable journey: how pepsi beat the odds in romania
scrisa de
Aviad Meitar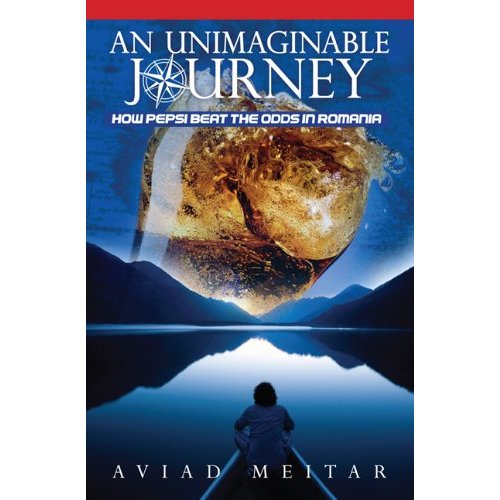 Propune aceasta carte

Pentru a propune cartea trebuie sa te autentifici.
Acum citesc aceasta carte

Pentru a salva cartea trebuie sa te autentifici.
Vreau sa citesc aceasta carte

Pentru a salva cartea trebuie sa te autentifici.
Am citit aceasta carte

Pentru a salva cartea trebuie sa te autentifici.
| | |
| --- | --- |
| Autor (i): | Aviad Meitar |
| Numar de pagini: | 176 pagini |
| ISBN: | 0692011617 |
| Anul aparitiei: | 2010 |
| Descriere: | In the 1990s, Romania was just beginning to experience a market economy. In "An Unimaginable Journey", Aviad Meitar explores how the highly unlikely business opportunity of setting up a Pepsi bottling operation in Romania came about. Meitar had virtually no knowledge of either the beverage industry or Romania, yet he recognised the value of bringing a first-class brand to a newly emerging market. Meitar and his team set about overcoming all obstacles to making Pepsi-Cola a success in Romania. Fascinated with Viking culture, Meitar explains how his attack plan mirrored that of the ancient warriors: he surrounded himself with good battle comrades, used top quality weapons, and concentrated on one target at a time, which more often than not was coke. By the end of the first year, they had four plants in Romania producing Pepsi. Meitar's book is as illuminating as it is engaging. He explores the marketing successes of planting a huge Pepsi sign in the middle of Romania's university square, sponsoring a huge Michael Jackson concert, and building up new brands like 7-Up and Mountain Dew. But Meitar also explores his defeats. When Pepsi changed its logo, this meant changing every single sign the company had erected, and when the company introduced a 'b' brand soft drink called Fizz, the product itself fizzled, changing colour in the sun. Pepsi might have had a big presence in Romania, but Coke retaliated by getting even bigger, painting an entire city orange to announce its new beverage, Fanta. This is an amazing story of a group of visionary entrepreneurs, who saw the Romanian business from inception through growth to the sale of the business to the second largest Pepsi bottler in the world. |
Carti similare cu An unimaginable journey: how pepsi beat the odds in romania
Scrie recenzie
Convinge-ti prietenii ca aceasta carte merita citita. Logheaza-te pentru a scrie o recenzie.
Comenteaza
Taguri